Top 5 Men's Jewelry & Accessories Trends for 2020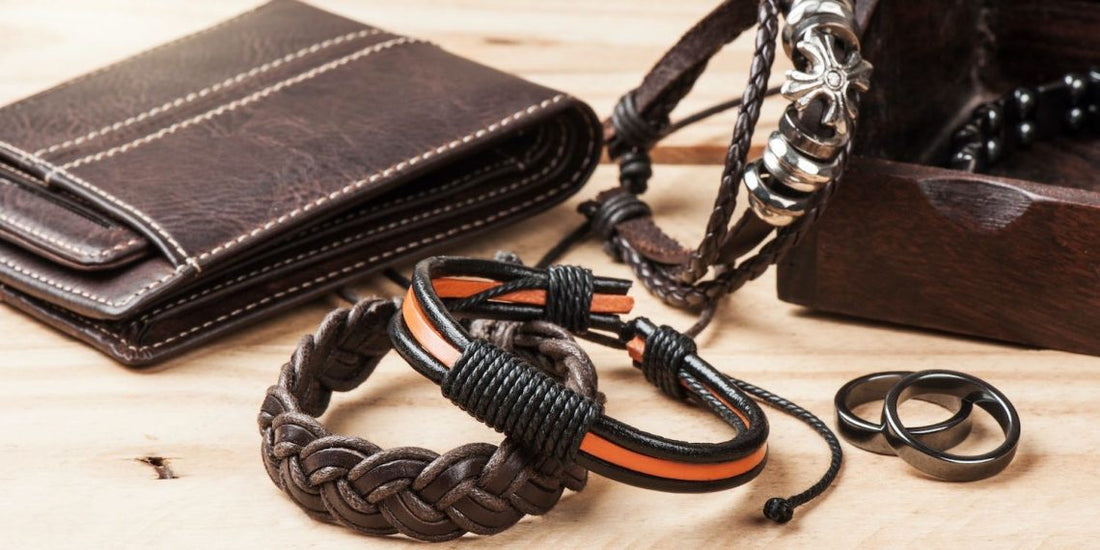 It is the small things that can really make a difference to a man's outfit, and the jewelry and accessories we choose are the small touches that really create a big difference, and make a look 'pop'. Whether you're looking for men's jewelry that is on the cutting edge of the latest trend, or you simply want to add some flair to your otherwise amazing wardrobe, this article is for you! We highlight some of the greatest trends and ideas from chain link necklaces for men, to men's leather bracelets, cufflinks and accent rings that are all the rage in 2020.
Leather Pendant Necklaces
Over the past years in general, there has been a trend toward simple, elegant and minimalist looks. This trend has extended well into men's jewelry, and in particular, men's necklaces. Depending on its color, texture and finish, leather has always been a material that can reflect either elegance, or be used to create a vintage feel, and it always remains in fashion. In 2020, trends are demonstrating the use of single accent pieces in men's necklaces to create a bold, yet understated look that speaks to the moment. Represented in various colours and styles, this leather charm necklace is effective whether it is bright colored leather, or even natural hues. In combination with a single accented charm woven into the design, this trend is definitely one to add to your look in 2020.
Chain Link Necklaces
In 2020, there are definite trends toward simplicity, and minimalism in both design and style.  The general aesthetic when sporting a chain link necklace is a great opportunity to  reenforces this this trend, in combination with simple solid colored clothing that highlights the accessory, while maintaining the 'less is more' trend.  Simple slimmer chain necklaces can be mildly embellished with carved pendants or stones to further accentuate the style, without compromising the general style's appeal.  The size of the chain plays a critical role, as longer chains provide more opportunity to highlight pendants or other accessories, while shorter chains will accentuate necklines and help to develop shape, structure and symmetry to a man's overall look.  Either length will stay on trend, though the two different styles will appeal to different wardrobe combinations – if you are looking for a more edgy urban street style, longer chains are likely more appealing, while shorter chains will more likely work in more urban contemporary style combinations.
Braided Men's Bracelets
The braided look has long been a staple of accessories and fashion in general, though in 2020 this look has thrust brilliantly into men's accessories, and the trend towards multi-band, layered and braided men's bracelets is definitely something to keep your eye on in 2020.  The look can be multi-colored for a more vibrant and youthful look, or monotone leather braids that offer more of a contemporary authentic look with traditional vintage appeal.  While the look is very popular in the bracelet segment, it definitely is showing signs of taking off in necklace styling as well.  Worn as a single piece a mens braided leather bracelet can look amazing, but when stacked in combination with other bracelet pieces, such as tiger's eye beads, or other straight leather pieces – it looks amazing, and is totally on trend for 2020.
Bold Men's Rings
Gone are the days of men wearing rings only as a statement of marriage, promise, accomplishment or commitment.  In 2020, men wear rings for the style it adds to every outfit, while making a statement and individual expression of style.  The preceding years have seen men's ring styling moving from simplistic, to both extravagant and heavy pieces that highlight strength and vitality.  Look no further than the heavy silver masterpieces that are being sported by the leather and biker scene – these pieces are flashy, brash and bold rings that make strong statements without need of explanation.  In 2020 this trend extends to urban, street and contemporary styling as well.  Rustic silver rings are making a full push into trend for 2020, and the vintage heavy silver look is definitely pushing boundaries for the year ahead.
Leather Satchels and Messenger Bags
Style has always played a place in the bags that men carry, though style has slowly evolved to a place where men now are far more expressive in their selection of men's bags.  Gone are the days of carrying a black square plain briefcase – today in 2020 men use a variety of bag styles, from messenger bags to satchels and backpacks.  Functionality is no longer the only factor in selecting a bag, men now, more than ever, choose options that express their unique and individual styling… and it works with amazing effect.  In 2020, the trend is towards over-the-shoulder styles in leather, with a general draw towards the vintage or rustic feel of dark tan leather with multiple compartments.  In an era where most people carry multiple devices from laptops to mobiles, extra batteries and other essentials – these bags pack as much space and practical function as they do amazing design and style.
Summary
It is clear that 2020 is a year that will push self-expression beyond where it has been in previous years.  While fashion is often cyclical, this year is about minimalism, simplicity and bold statements that aren't too ornate.  Leather accented materials, chain link pendants and heavy solid men's rings are clear markers in this year's trends.  Taking things further, the men's bag trends are all about over-the-shoulder leather satchels and messenger bags that offer both functionality and great styling.  So, whether it is an edgy streetwear vibe, or urban contemporary elegance – 2020 is sure to be a year filled with simple expressions, clean lines and heavy bold cuts that give genuine individual expression to every man.  Be sure to check out all our great articles and information at Effentii Magazine.
Your Email Address Will Not Be Published. Required Fields Are Marked *
Live, Love Wear - EFFENTII
Subscribe to our magazine and receive a selection of cool articles, exclusive deals, fashion inspirations and more!