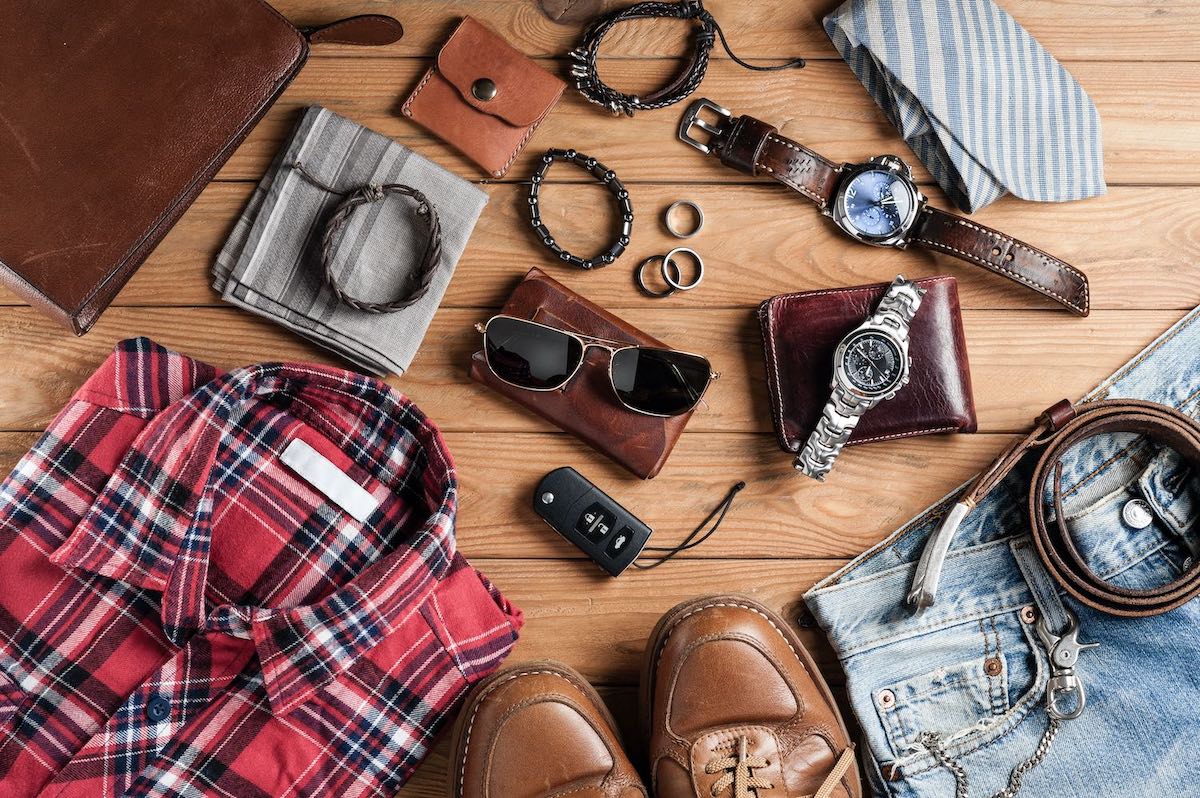 Inspired Authenticity
Free Standard Shipping on All Orders!
Mens Bags and Cases
Welcome to the ultimate guide for men on the search for the perfect bag or case! Whether you're looking for a designer bag, or something to carry around your laptop, a stylish duffel for a weekend getaway, or an everyday bag that can fit all your essentials - we have you covered. Join us as we explore different types of bags and cases made just for men! 
Bags for Men - Materials
When it comes to choosing the right bag for men, there is a wide range of materials available. The most common materials used today include canvas, leather, metal, and plastic.
 Canvas bags are lightweight and durable. They are also weather-resistant and can be easily spot-cleaned making them ideal for carrying around day-to-day items such as books, gym gear or groceries.
Men's leather bags give a stylish look while being strong and durable. Leather bags are ideal as messenger bags and laptop cases as it they are able to withstand wear and tear. Leather tends to be more expensive than other materials, but it will last you much longer if taken care of correctly so the extra cost may be well worth it in the long run.
Metal materials are great for security purposes such as locks and zippers on backpacks, or briefcases made of metal are less prone to wear than plastic or canvas materials when under strain from weight or pressure being put on it from heavy objects inside the bag.
Plastic, nylon or polyester messenger bags are lightweight, but not as strong as their canvas or leather counterparts. They are usually more affordable though, and often provide weatherproofing, which makes them ideal for students needing a bag to carry around textbooks in any kind of weather conditions without worrying about the materials inside, or if their bag will fall apart after only a few weeks of use.
Specific details should always be taken into consideration when purchasing men's bags. Details such as the quality and durability of the straps, the handle type and size of pockets or slots inside the bag. For the man on the move, and depending on the use case for your bag, ensure you account for what you'll need most often - i.e business trips may require bigger compartments suitable for laptops and overnight supplies. Day trips conversely, may require something small like a cross body satchel, which provides easy access to what you need throughout the day, yet still keeping items secure with multiple compartments, and adjustable strap configurations that allow your hands to be free at all times.
Best Size for a Mens Bag
Finding the right size and style of mens bag can be quite a task as there is a diverse selection of options available. Before you purchase one, it is important to consider how you will use your bag and what features it should have.
For everyday use, a small to medium-sized messenger bag is ideal. It should comfortably fit items like an iPad or laptop, a phone, notebooks and pens, and other essentials like chargers and keys. Many messenger bags for men come with adjustable straps to ensure that it fits your body perfectly.
For larger items like books or documents, or for trips away from home that require more storage space, a mens satchel bag may be the way to go. Choose one made from sturdy material such as leather for a classic look that will stand the test of time. Mesh pouches inside are perfect for carrying small items such as USB drives or earphones along with other accessories. It should have multiple compartments along with adjustable straps so that you may easily adjust the length depending on the weight inside.
For hands free convenience in carrying essential necessities while traveling, investing in a good quality men's messenger bag is wise choice indeed! Look for one that has quick access pockets at either side along with secure compartments inside specifically designed to hold cards and coins conveniently. A man purse gives you plenty of room while keeping items close by so you don't need to keep rummaging through your pockets all day! Being prepared also means picking out an extra stylish carry all such as a leather shoulder bag mens edition as this ensures both safety and style!
Whether for business or casual use, there is certainly something out there to suit everyone's tastes! So next time when you realize it's time to get that new man bag leather piece , remember- selecting the best size might just mean finding the perfect blend between form and function!
Types of Mens Bags
Mens bags are an essential part of any guy's wardrobe and provide a stylish way to store items and stay organized. With the huge variety of styles, patterns and materials now available, there is something for every taste and occasion. From basic messengers to leather briefcases, shoppers can find the perfect balance between professional aesthetic and practicality.
Messenger Bags
Messenger bags for men are a classic bag choice for work or everyday use. This type of bag offers a clean cut look with convenient carrying straps. Men's messenger bags are usually made with high-grade materials such as leather or canvas and come in various shapes and sizes to accommodate your needs. This type of bag is suitable for most occasions including travel, school days or just commuting around town.
Satchel Bags
Another popular style is the mens satchel bag which comes in different heights and sizes including large enough to fit laptop computers as well as other devices such as tablets or gaming consoles. This makes it useful when transporting important documents around as well as providing style points when you're out with friends. A variation on this theme is the men's crossbody messenger bag which offers hands-free convenience along with plentiful storage space - ideal for commuters who need to keep their hands free while in transit.
Mens Briefcases
It's no secret that a good briefcase can take your style and look to the next level. Whether you're a businessman, student, or just someone who loves to make a statement, mens briefcases offer an array of options to fit any lifestyle. With so many styles, materials, and features available it can be hard to choose the right one for you.
Gone are the days where briefcases were only a necessity for men in the business world. Today, mens briefcases combine style, functionality and sophistication like never before. Whether you're a professional looking to make an impact in the boardroom or an avid traveler seeking something stylish and reliable to store all your belongings, there's a mens briefcase out there that's perfect for you.
A classic style staple for generations, briefcases have an undeniable power that can instantly elevate even the simplest of looks. It's no surprise then, that in today's world a man's briefcase is often seen as an extension of his personal style and taste.
Mens Backpacks
Backpacks are an essential part of any modern man's wardrobe. With so many different types and materials available, it can be hard to decide which one is best for you. From leather backpacks that scream sophistication, to nylon ones perfect for a weekend away – there's something out there for everyone.
Mens backpacks are an essential accessory for many men, providing them with a functional and stylish way to carry their belongings. Whether you're looking for something that's suitable for the office, school or just a casual day out, there is no shortage of options when it comes to different types of mens backpacks. From leather backpacks to nylon, and everything in between, there are plenty of options available with varying benefits, features and styles.
When it comes to choosing a backpack, men have a variety of choices. With the array of materials and styles available, there is something for everyone. From leather backpacks for an executive look to nylon for an outdoor getaway, Each type of material has its own advantages, and depending on its intended use, will make it the perfect choice for any man's needs.
Mens Duffle Bags
When it comes to fashion and versatility, men's duffle bags have it all! They can be used as a carry-on, gym bag, or even a diaper bag. With their classic look, they offer a timeless appeal that can transition with any style and taste. Whether you're looking for something sleek and modern or rugged and durable, there is a duffle bag out there for you.
An essential part of any man's wardrobe, duffle bags are the perfect accessory for anyone on the go. These stylish and spacious bags are an ideal way to keep all your essentials organized, no matter where you're headed. Whether you're traveling for business or pleasure, a great duffle bag can make your life much easier. With so many different styles and materials to choose from, it can be difficult to decide which one is the best choice for you.
Are you looking to get your hands on the perfect duffle bag? Look no further than the EFFENTII collection of mens duffle bags! Whether you're headed to a weekend getaway or planning an extended trip, the right bag can make packing and carrying your belongings much easier. With so many different styles and sizes, you're sure to find something that fits your needs. Not only are they practical and stylish, but they also provide great protection for all of your items while on the go.
Summary
Men's bags and cases come in a range of styles, from messenger bags for men and business bags for men, to leather backpacks, messenger bags and satchels for men. The traditional man bag comes in various materials to suit your needs, including leather man bags and canvas messenger bags. For the modern professional, there are smart laptop bags for men with sturdy construction, as well as stylish mens cross-body bag options. Travelers will appreciate strong and lightweight design in men's carry-on luggage or mens travel duffle bag. Other stylish accessories include classic wallets and hobo bags perfect for everyday use. You can also find multipurpose options like a leather shoulder bag, or even a dapper briefcase that offers ample room for all of your documents and other items you need on the go.
No matter the occasion, you'll benefit from having an accessory that matches both your style and your needs - from more formal occasions to more casual weekend getaways. Choose from a selection of materials such as fabric, genuine leather or even canvas mens satchel bag that suits your lifestyle perfectly! Whether you choose something classic such as a traditional man purse or something practical like a tote or messenger bag for men – look no further than our range of quality styles that combine form with function. So take a look through our selection – you are sure to find the perfect carryall case or accessory from our carefully curated collection that suits any occasion!
When it comes to casual wear, there are so many options available from man purses and hobo bags, to canvas messenger bags that offer more protecting space along with fewer pockets than more formal styles - great for running errands around town! Leather shoulder bags vary from the ultra-stylish man purse, all the way up to laptop sized cases perfect for heading away on business trips or vacations alike – all offering a touch of class, while maintaining an a contemporary urban elegance.  Check out entire collection of mens briefcases, wallets, bags, backpacks and shoulder bags today - you wont be disappointed!