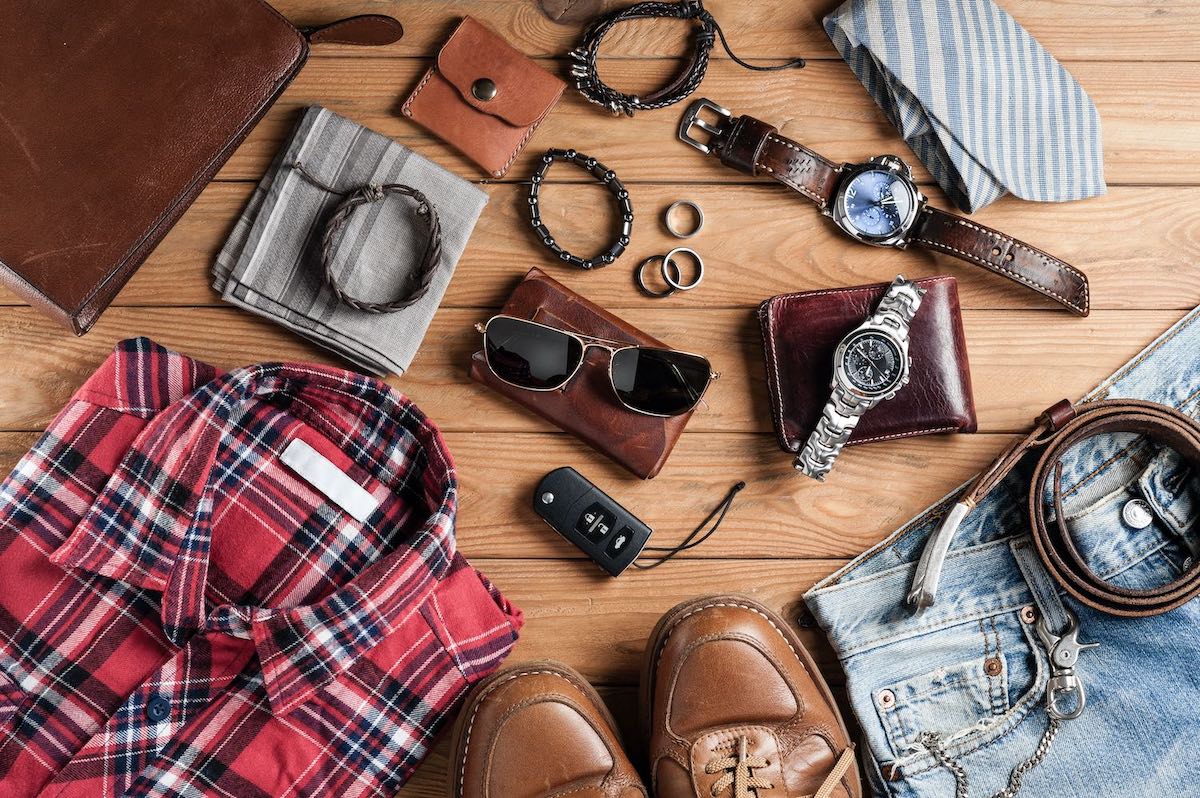 Inspired Authenticity
Free Standard Shipping on All Orders!
About EFFENTII Mens Bracelets
Welcome to the world of mens bracelets - a stylish way to make a statement! Whether you're looking to add an extra pop of color to your wardrobe or just accessorizing, with the EFFENTII Collection there is a perfect bracelet for you. Dive into these details about bracelets for men, and find the perfect designer accessory that will add the finishing touches to any man's look!
Bracelet Styles
Men's bracelets are an important part of their wardrobe and can make a great fashion statement. They come in a variety of styles, from classic to modern, to suit any man's tastes or needs. There are many types and design of men's bracelets available for purchase, including leather, stainless steel, rope and bead varieties.
Leather Mens Bracelets
Leather bracelets for men offer an elegant and timeless look. They come in various colors and textures such as plain dark brown or black. The texture of the leather adds visual interest to the bracelet without detracting from the masculinity. Pair it with a simple metal chain for added sophistication.
Stainless Steel Mens Bracelets
Mens stainless steel bracelets are ideal for those who want a sleek and sophisticated look. These types of metal strands often feature intricate engraving details or other designs that catch the eye while providing an extra touch of style. The subtlety of these pieces help keep focus on the more attractive attributes such as strength or design detail instead of a huge display of metal around the wrist.
Rope Mens Bracelets
Rope mens bracelets bring texture to style with their unique texture that resembles twisted twine or rope fibers. Choose lightweight cords in bright earthy tones to create vibrant style against darker clothing when desired or thicker lines made out of polyester that won't snag easily but might stand out less when worn close against skin tones like browns and blacks.
Men's Paracord Bracelets
Men's Paracord Bracelets are a great way to show your style and personality. They are also a great way to accessorize your outfit. They come in many different colors and designs, so you can find the perfect one to match your personality.
Mens Bangle Bracelets
Mens bangle bracelets provide flashy style mixed with class when crafted from quality metals such as stainless steel or sterling silver for long-lasting durability against wear-and-tear over time without getting dull colorless consequences after too much use—even if used consistently on sunny days outside for extended periods at a time like those carefree summer moments playing in nature with friends!
Beaded Mens Bracelets
Beaded mens bracelets offer an artisanal look that takes time to create since there isn't much room error when precision is needed between individual beads before everything gets secured using wire bandings at either end so they don't slide off easily due their lightweight nature upon wearing during everyday activities like running errands around town while looking handsome every step away!
What are the Best Mens Bracelets
When it comes to fashion accessories, men these days can select from a wide range of bracelets. Whether they're looking for something classic, something bold and edgy or just a hint of sophistication, there are plenty of mens bracelets out there to choose from. The choices of what is the best mens bracelet is truly a matter of taste, but depending on the style, look, feel and occasion, there is surely a mens bracelet for every man.
For example, some men may prefer the timeless style of a mens stainless steel bracelet. With its solid construction and shimmering shine, this piece will be sure to turn heads and give an air of sophistication to any outfit. It can also be paired with a leather Casio watch if you're looking for an accessory that makes a serious statement.
If you prefer something more casual and laid-back, then you may want to take a look at mens leather bracelets. These are typically thinner than stainless steel varieties and come in subtle tones such as browns and tans – great for everyday wear or weekend lounging around the house. They are also easy to adjust the size depending on how loose or tight you like it to be worn on your wrist.
Finally, if you're looking for something more sporty – perhaps even adventurer-like – then mens rope bracelets might be just what you need! This style typically has several knots along the length of the cord creating an attractive visual effect with each bead that holds it together another texture point along the wristband body. These type of bands don't have clasps so instead have sliding knots at both ends so they are easily adjustable – perfect for anyone wanting comfort as well as style!
There is no right style when it comes to mens bracelet fashion; it all comes down personal taste and individual style preference. Depending on your needs any one of these options could make the perfect accessory​ no matter what kind​of look​you are going for!
How to Wear a Mens Bracelet
Mens bracelets are considered to be a fashion accessory and typically come in a variety of styles. This includes stainless steel bracelets, leather bracelets, and rope bracelets. When choosing your bracelet, make sure it complements your outfit and fits the occasion. For formal occasions like weddings or black tie events, you want to choose a more refined silver or gold chain bracelet for an elegant look. If you're going for a more casual look, consider a leather band or rope cuff with an interesting design element for added character. The EFFENTII mens bracelet collection is the perfect place to find stylish designer bracelets with modern designs and durable quality to adorn your wrist for any occasion.
Wearing the right bracelet can add another dimension to your outfit by creating a bold statement piece that speaks to your personality and style preferences. When wearing multiple bracelets at once (known as "stacking"), it's important to keep the sizes balanced so that none of the pieces overpower another. Make sure you have one main piece that takes center stage, then accent this with smaller styles in varying materials and colors around it.
When it comes time to take off your mens bracelet, direct contact with any jewelry cleaner may damage it over time so its best to stay away from them as much as possible. You should always read instructions carefully before cleaning any jewelry item primarily composed of metal clasps such as silver or gold-plated wristbands wrapped with leather or any similar material construction features.. Use mild soap mixed with lukewarm water if necessary instead to help spot clean specific areas of the jewelry's surface without excessively damaging its pre-installed structural integrity of materials which overall preserve its very function in additions over time period-wise as always stated above😊✌️
Summary
Whether you're looking to upgrade your style game, or just trying to find the right-way to look amazing for any event or occasion, the EFFENTII selection of cuff bracelets take mens jewelry to a whole new level. Discover your next look with us, and we are sure you won't be disappointed! Check out our full collection of men's accessories!