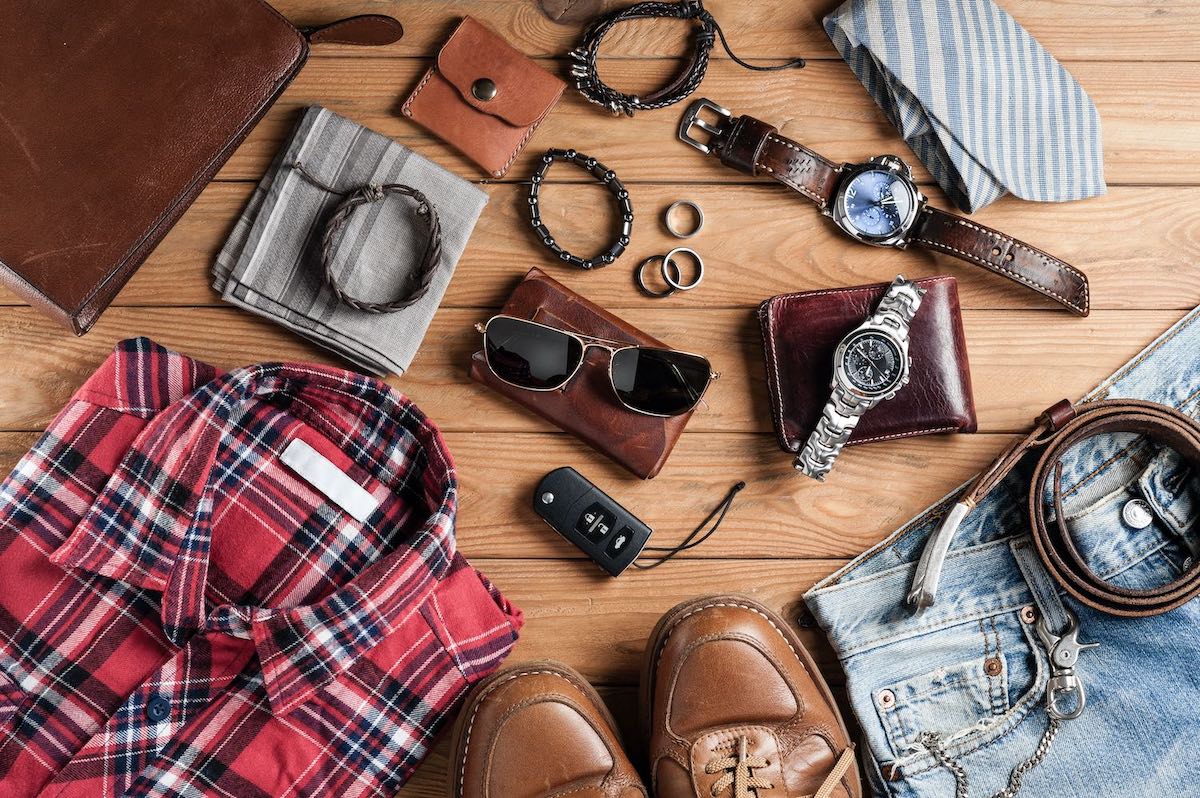 Inspired Authenticity
Free Standard Shipping on All Orders!
Mens Accessories
Are you a man looking to add a little something extra to your look? Look no further - with our collection of essential mens accessories, you can take your style to the next level. Get ready – it's time to accessorize! Whether it's a stylish leather wallet, a belt, a backpack, a ring, necklace, bracelet or even a pair of sunglasses, we have all the must-have essential accessories to make you look amazing, and add the finishing touch to every man.
What are the Trends in Fashion - Mens Accessories
Traditionally men have worn jewelry, though only in a limited way. In contemporary times, mens fashion accessories are a great way to show off your style and make a personal statement, with a great variety to choose from. The trend in menswear and fashion over the last few years has been for men to embrace their masculine side and make a bold fashion statement with the right type of accessories, for some next-level style! From minimalist mens bracelets to luxurious mens necklaces, new trends are constantly emerging in mens fashion accessories.
Mens bracelets have been around for centuries, but recently they've had a resurgence. The most popular bracelets today have either classic looks or modern designs with unique features. Leather is the material of choice for classic styling, but there are also metal and wooden options available that still look fashionable in today's trendsetting world.
Men's necklaces tend to follow more traditional styles such as chain or rope necklaces in silver, gold or bronze metals that nicely accent an overall outfit. A nice bead can help add another dimension as well if you want an item with a touch of color. Remember that leather corded necklaces often help complete an urban streetwear outfit.
Modern jewelry is also becoming popular amongst men's rings these days, with intricate beading helps create conversations amongst those who admire it! Men's rings do not come cheap on the open market today so it's best to find quality brands that bring something special while still being reasonably priced in order to get maximum value from your purchase!
Hats still hold strong when it comes to mens fashion accessories as well and will never go out of style anytime soon! Different straw hats and fedoras give off different vibes depending on what type you choose so be sure to pick one accordingly! Men's brimmed hats can even be dressed up for formal occasions when wearing evening-wear like tuxedos so don't forget this when shopping around!
Men's sunglasses have become ultra trendy over the past decade or so, and typically stick to more neutral tones since they need contrast against colored clothing which allows them stand out more (while still looking natural). Aviator style frames remain some of the most popular shapes for sunglasses in recent years, but if you're going for something different then try angular shaped frames! That shape complements round faces especially well too so next time you want something different take this into account and shop accordingly!
Types of Mens Accessories
When it comes to men's accessories, there's so much to choose from, with top quality options available. In this comprehensive guide, we're going to look at the different types of men's accessories available. From bracelets and necklaces, to rings and hats - there are a multitude of ways that men can accessorize their look, that offer great value for money.
Men's Bracelets
There are a variety of mens bracelet options available, such as link bracelets, beaded bracelets, leather bracelets, stainless steel bracelets and more. These simple accessories can add a touch of sophistication to any outfit.
Mens Necklaces
Mens necklaces include rope chains, beaded necklaces, mens chokers, pendant necklaces, and stainless steel or silver chains that come in various lengths, as well as collars and charms that offer incredible versatility and make great statement pieces for the modern man.
Mens Rings
Mens ring styles range from simple bands in gold or silver to elaborate settings for diamonds or gemstones. Mens rings can be used for everyday wear or for special occasions such as weddings or anniversaries.
Mens Hats
From fedoras to flat caps, mens hats can provide protection from the sun while also completing an outfit in style. For those who prefer a less structured look, beanies are excellent companions on casual days out or when spending time outdoors exploring nature.
Mens Sunglasses
Sunglasses are both a fashion item and an important tool when it comes protecting your eyes from the sun's rays. Aviators, wayfarers and clubmasters provide different levels of protection while also taking your look up a notch with their vintage appeal.
Mens Backpacks
Backpacks are an essential part of everyday life! Whether you're a student, a business professional, or just someone who likes to carry all the essentials around with them, there is a type of backpack out there that will suit your needs. There are so many types of materials when it comes to backpacks, from leather to nylon and beyond.
Mens Wallets
Welcome to the world of men's wallets! Whether you are looking for a classic leather wallet, a compact and durable nylon design, or something entirely different like carbon fiber, there is a wallet out there that will suit your needs. When it comes to types of usage, you can find billfold wallets, RFID Blocking wallets, and an array of other features and options.
Mens Belts
When it comes to fashion accessories, belts are a must-have for every man. They can be the difference between an outfit looking incomplete, or refined, well put together, and stylishly finished. With the many different types of materials available for belts, such as leather, or nylon to organic rope fiber, or even hemp, there is something to suit everyone's style and taste. Not only that, but buckles come in numerous styles and colors, allowing you to customize your look from classic to modern and elegant.
Accessories for Men
Designer accessories for men can be a great way to complete an outfit and add a personal touch. From watches to rings, there are a variety of styles and designs and accessories people want that available today and allow you to express your individual style.
Mens bracelets are a popular accessory. You can find them in many different materials and designs, ranging from classic leather and metal varieties to modern silicone options with unique patterns. They look great when worn alone or stacked with other pieces for an on-trend layered look.
Mens necklaces are another accessory trend that is gaining popularity among men of all ages. Depending on the design, they can add a subtle hint of style without being too over-the-top. From classic chains to pendants featuring engravings or symbols, there's something for everyone.
Rings are also popular mens accessories which help give any outfit an upgrade in sophistication and style. Rings made from precious metals such as gold, silver, or platinum come in a range of styles such as signet rings, bands, and solitaires – perfect for adding some personalised jewellery into your look.
Aside from these items of jewellery men may also wear hats or sunglasses as accessories when outdoors – depending on the weather conditions or occasion they can provide both protection from the sun whilst looking fashionable at the same time! In addition to fedora's and baseball caps hats now come in an array of fashion inspired forms - suited towards making any ensemble stand out amongst the crowd! As for sunglasses - aviators have been amoungst one of the most popular styles for several years now – however experimenting with different shapes & frame colours allows one to make more statement pieces than ever before!
Summary
In conclusion – there is a great selection of accessories for men available, and you don't have to be limited! Whether it be jewellery you're looking at investing in or items traditionally deemed part of a man's wardrobe, such as sunglasses & hats - it's clear that being creative & exploring ones individual style allows any man to complete his perfect outfit today! It's time to start wearing your favorite pieces and make individual stylistic impression, whether you only wear one ring, or choose a unique necklace to wear around your neck - there has never been a better time for many men to step up their style game, subtle or bold - it's up to you!
At EFFENTII, we offer style that's certain to impress, with a selection of men's accessories that is both unique and inspiring. Whether you're looking for a casual pair of shades for certain occasions, or you want to wear the best quality ring to a formal event - we've got you covered.