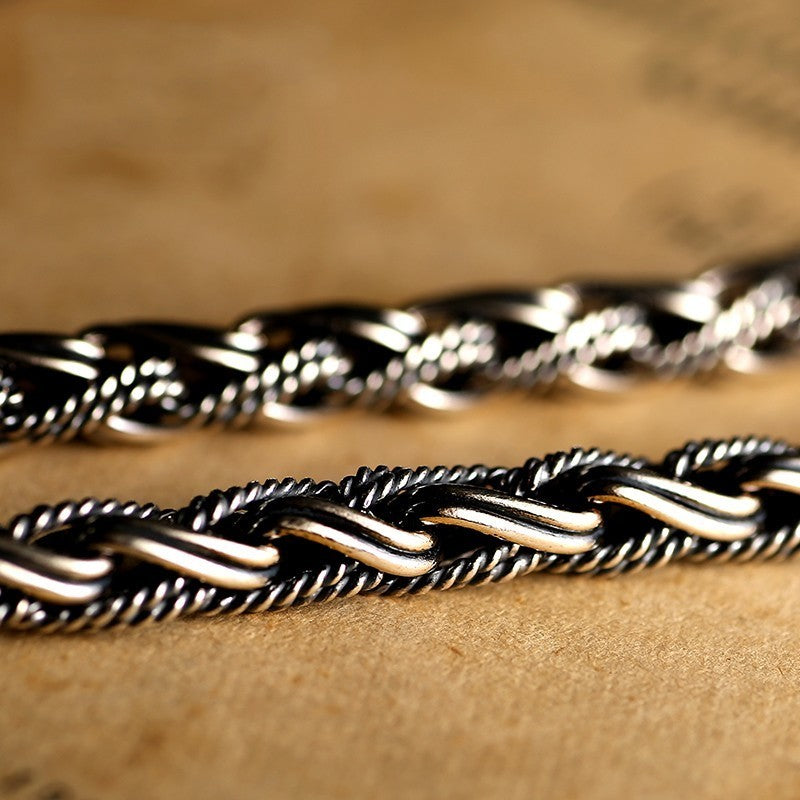 Byblos Sterling Silver Necklace
---
Why Purchase from Us?
FREE worldwide standard shipping
FREE 14 day returns on all items
Need assistance? Chat with Us Below
In stock, ready to ship

Inventory on the way
Unleash Your Style with the Byblos Sterling Silver Necklace
Step into the world of unmatched craftsmanship and exceptional design with the Byblos Sterling Silver Necklace from EFFENTII. Iconic in its own right, this masterpiece of a necklace is artistically woven, featuring the finest sterling silver. The easy-to-close fish hook clasp provides an added convenience, making this distinct men's necklace an indispensable addition to every fashion-forward man's wardrobe.
Masterpiece of Craftsmanship and Design
More than just an accessory, the Byblos Sterling Silver Necklace is a testament to skilled craftsmanship and innovative design. Each strand of this intricate weave tells a story of style and sophistication, harmoniously blending with the lustrous sterling silver to create a look that's unique and captivating. Whether you're heading to a business meeting or a casual outing, this necklace is your go-to accessory for making a style statement.
EFFENTII - Your One-stop Shop for Men's Necklaces
Can't get enough of our necklaces? Our Men's Necklaces collection is a treasure trove of designs that reflect your personal style. From modern, minimalist pieces to bold, intricate designs, we have something for every style preference.
Worldwide Free Shipping on All Orders
At EFFENTII, we believe that style should have no boundaries. That's why we offer free worldwide shipping on all orders. So no matter where you are, you can shop your favorite EFFENTII pieces without any additional costs. Exciting, isn't it? Start shopping now!
Material: Genuine 925 Sterling Silver (Certified)
Clasp: Hook Clasp
Length: 55 cm
Thickness: 6 mm
Weight: 85g
We offer free shipping globally on all of our products. We aim to reduce our environmental impact by reducing the number of shipments our products have before arriving to our customers. Rather than shipping to multiple warehouses globally, and increasing the carbon footprint of each product, we ship with minimal packaging, and often direclty from our suppliers.
Our products may be shipped either directly by Effentii, or from our global distrutors and suppliers. Any orders made may be delivered in separate packages, and a single order may be delivered in multiple parts.

All orders are processed within 5 working days, and delivery times vary depending on the shipping method chosen. For standard international shipping, delivery times range from 14-28 days from the date the packages have been dispatched to the shipping company.