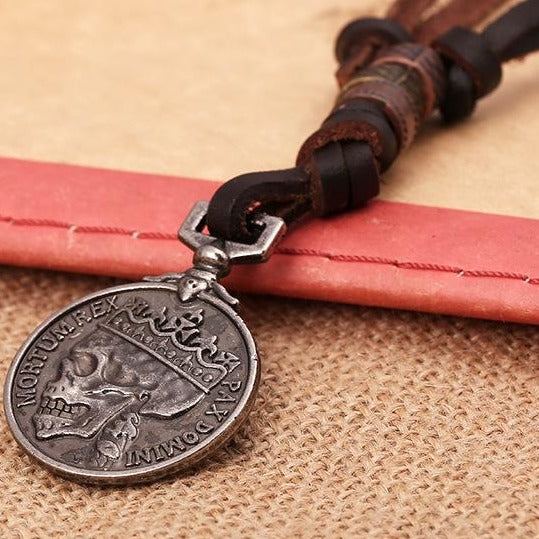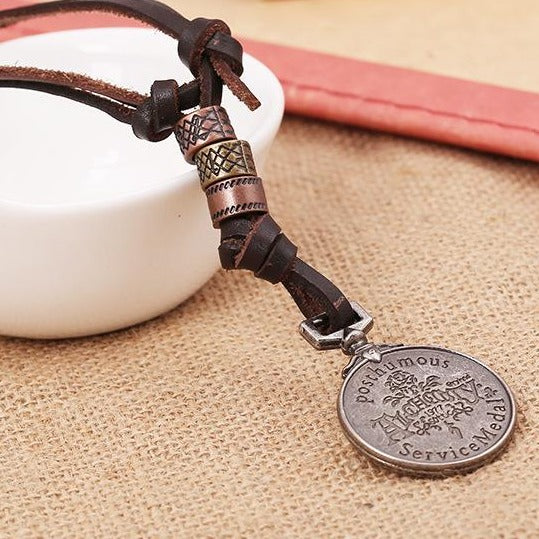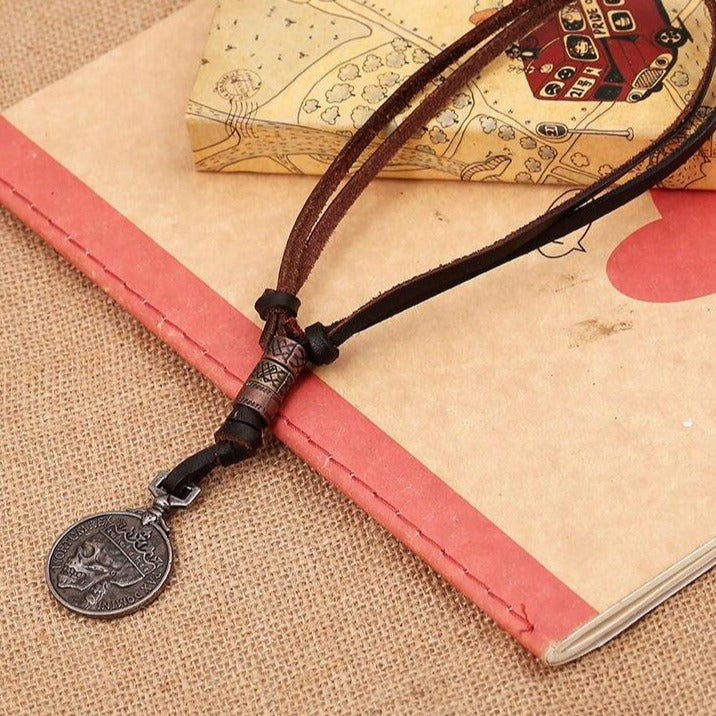 Noir Alchemy Men's Leather Necklace
---
Why Purchase from Us?
FREE worldwide standard shipping
FREE 14 day returns on all items
Need assistance? Chat with Us Below
In stock, ready to ship

Inventory on the way
A Necklace for the Adventurous
The EFFENTII Noir Alchemy Men's Leather Necklace is the ultimate embodiment of exploration and adventure. It's a spectacular men's leather necklace inspired by alchemical studies of the past, invoking the spirit of invention and the audacity of ancient adventurers. And yet, despite its vintage heritage, this necklace retains a modern urban edge that's sure to appeal to today's man.
Unleash Your Mysterious Side
Eye-catching and intriguing, this necklace features a vintage crowned skull motif inlayed into a vintage coin-inspired pendant. It's not just a piece of jewelry, it's a conversation starter. Whether you're at a party or on a date, it's sure to draw attention and spark interest. It exudes a sense of mystery, making it the perfect casual addition to any outfit.
A Must-Have Addition to Your Urban Collection
Like a good wine or a classic song, this necklace only gets better with time. It's made of durable leather and high-quality alloy, ensuring it will continue to add a touch of intrigue to your look for years to come. It's a fantastic piece that will fit seamlessly into any urban collection.
Free Global Shipping? Yes, Please!
What's even better than owning this amazing necklace? Getting it delivered to your doorstep without paying a cent for shipping. Yes, you read that right. We offer free global shipping on all orders. So what are you waiting for? Get your Noir Alchemy Men's Leather Necklace today!
Want more of our unique men's necklaces? From bold statement pieces to minimalist designs, our Men's Necklaces collection has something for every man. So go on, explore our collection and find your next favorite piece of jewelry.
Product Specifications
Necklace Material: Leather
Pendant Metal Type: Alloy
Length: 68 cm (variable sizing)
Shipping: Worldwide
We offer free shipping globally on all of our products. We aim to reduce our environmental impact by reducing the number of shipments our products have before arriving to our customers. Rather than shipping to multiple warehouses globally, and increasing the carbon footprint of each product, we ship with minimal packaging, and often direclty from our suppliers.
Our products may be shipped either directly by Effentii, or from our global distrutors and suppliers. Any orders made may be delivered in separate packages, and a single order may be delivered in multiple parts.

All orders are processed within 5 working days, and delivery times vary depending on the shipping method chosen. For standard international shipping, delivery times range from 14-28 days from the date the packages have been dispatched to the shipping company.