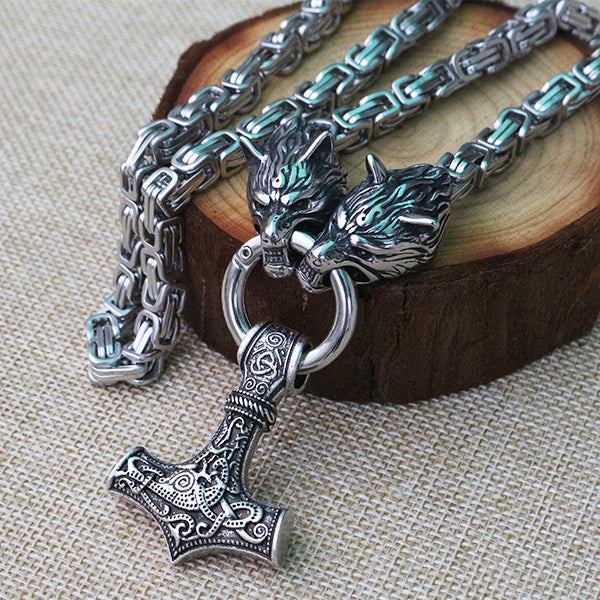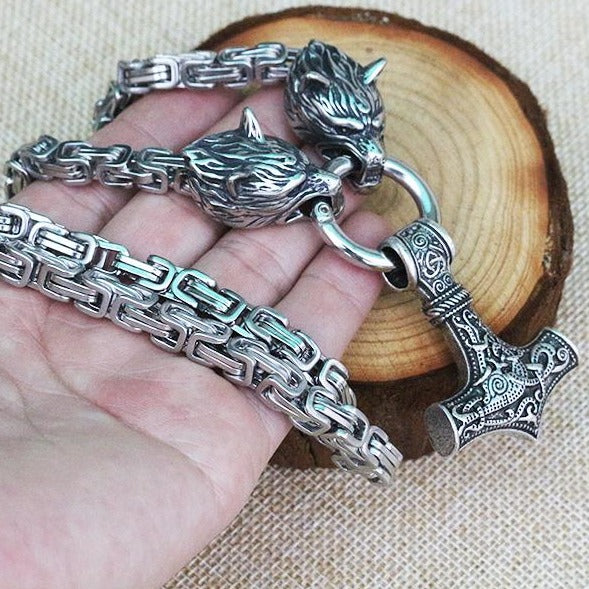 Norse Talisman Men's Chain Necklace
---
Why Purchase from Us?
FREE worldwide standard shipping
FREE 14 day returns on all items
Need assistance? Chat with Us Below
In stock, ready to ship

Inventory on the way
Legends Never Die
Let the saga of the ages play out with the Norse Talisman Men's Chain Necklace from EFFENTII. This epic men's chain necklace draws its inspiration from the legends and lore of the mighty Norsemen. The necklace features a heavy, intricately braided stainless steel chain that is as robust as it is attractive, terminating in a finely crafted pendant adorned with powerful symbols. These designs echo the narratives of mystery, elegance, and contemporary urban style, much like the Norse sagas themselves.
An Emblem of Strength and Style
The Norse Talisman Men's Chain Necklace is more than just a piece of jewelry, it's a statement of intent. A declaration of strength, style, and a keen eye for fashion. The pendant, with its finely detailed designs, stands out against the braided chain, creating a perfect blend of subtlety and standout style. This is a piece that not only complements your look, but also enhances it.
Shipping Worldwide and Absolutely Free!
And the best part? No matter where in the world you are, we'll ship this amazing piece right to your doorstep without charging you a dime for delivery. That's right, free global shipping on all orders! So go ahead, embrace the power and allure of the Norse sagas with the Norse Talisman Men's Chain Necklace.
Can't get enough of these necklaces? Our Men's Necklaces collection is filled with exciting, bold, and stylistically diverse pieces that cater to every kind of man. Be it minimalist or maximalist, understated or bold, there's a necklace just waiting to be discovered by you.
Product Specifications
Metals Type: Zinc Alloy
Chain Design: Link Chain
Pendant Size: 40 mm X 45 mm
Chain Length: 45 cm
Shipping: Worldwide
We offer free shipping globally on all of our products. We aim to reduce our environmental impact by reducing the number of shipments our products have before arriving to our customers. Rather than shipping to multiple warehouses globally, and increasing the carbon footprint of each product, we ship with minimal packaging, and often direclty from our suppliers.
Our products may be shipped either directly by Effentii, or from our global distrutors and suppliers. Any orders made may be delivered in separate packages, and a single order may be delivered in multiple parts.

All orders are processed within 5 working days, and delivery times vary depending on the shipping method chosen. For standard international shipping, delivery times range from 14-28 days from the date the packages have been dispatched to the shipping company.