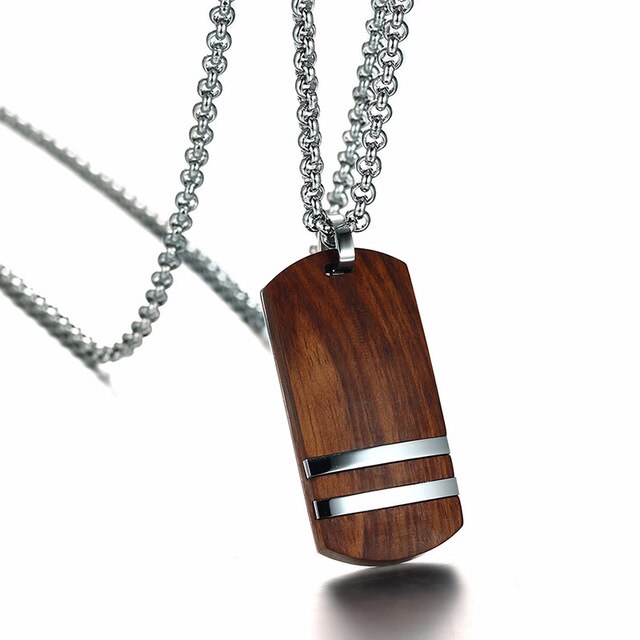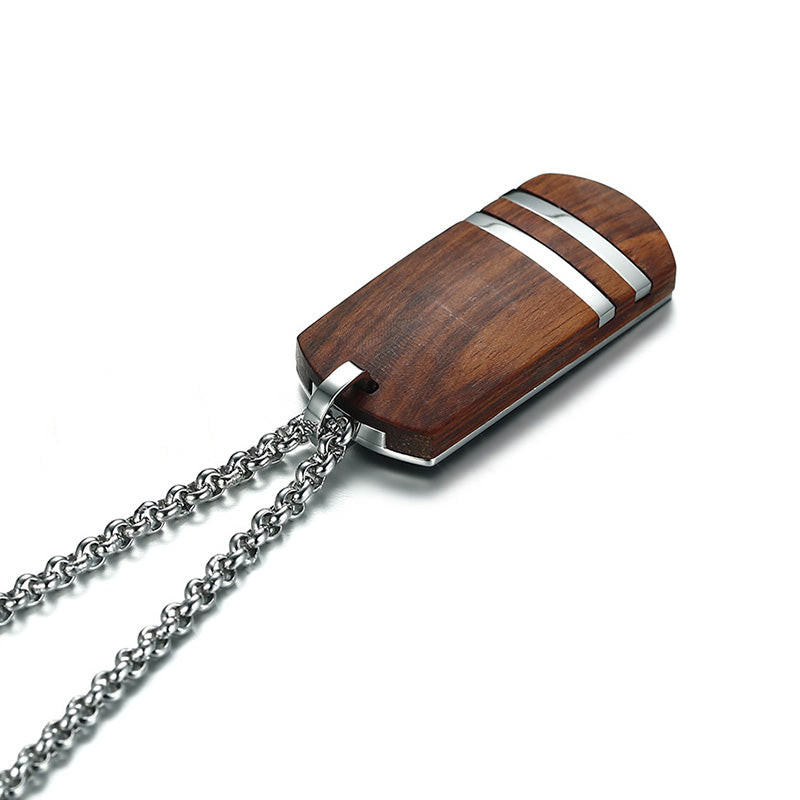 Rosewood TAG Men's Dog Tag Necklace
---
Why Purchase from Us?
FREE worldwide standard shipping
FREE 14 day returns on all items
Need assistance? Chat with Us Below
In stock, ready to ship

Inventory on the way
Unleash Your Inner Legend with the Effentii Rosewood Men's Dog Tag Necklace
Step into the limelight with the legendary Rosewood Men's Dog Tag Necklace from EFFENTII. An iconic representation of modern urban fashion, this men's pendant necklace weaves together the rugged power of natural elements and the sophisticated appeal of stainless steel. Each piece captures the creativity and strength of man, embodying a perfect blend of raw industrial aesthetics and refined urban appeal. The rich wooden hues contrasted with the lustrous silver stainless steel will give you that edgy yet classy look.
Not Just Jewelry, It's a Statement
Wear it like a badge of honor, a symbol of your individuality. Our Rosewood Dog Tag Necklace is more than just a piece of jewelry; it's a bold statement that echoes your unique personality and style. Whether you're dressing up for a grand occasion or just stepping out for a casual meetup, this necklace adds that perfect dash of flair to your attire, effortlessly augmenting your urban appeal.
Captivating Deals Await – Free Global Shipping on All Orders
High fashion doesn't have to break the bank. EFFENTII offers free global shipping on all orders. So, why wait? It's time to level up your fashion game and own a piece of the urban fashion legend that is the Rosewood Men's Dog Tag Necklace. The city's calling. Are you ready to answer?
Dive Deeper into the World of Men's Urban Fashion
But why stop at one? Our love for urban fashion doesn't end here. In fact, this is just the beginning. If you're as excited as we are, and you can't get enough of these stunning necklaces, make sure to check out our extensive Men's Necklaces collection. From timeless classics to bold contemporary pieces, you'll find a plethora of designs that are just as unique and stylish as you are. You're not just wearing a necklace, you're wearing a piece of art, a symbol of urban sophistication. It's a journey, and every piece tells a story. Start yours today.
Product Details:
Pendant Material: High Quality Stainless Steel with Wooden Accents
Pendant Size: 30mm*50mm
Chain Type: Link Chain
Chain Length: 60cm/24"
Shipping: Worldwide
Environmental Standard: Lead, Nickel, Cadmium free
We offer free shipping globally on all of our products. We aim to reduce our environmental impact by reducing the number of shipments our products have before arriving to our customers. Rather than shipping to multiple warehouses globally, and increasing the carbon footprint of each product, we ship with minimal packaging, and often direclty from our suppliers.
Our products may be shipped either directly by Effentii, or from our global distrutors and suppliers. Any orders made may be delivered in separate packages, and a single order may be delivered in multiple parts.

All orders are processed within 5 working days, and delivery times vary depending on the shipping method chosen. For standard international shipping, delivery times range from 14-28 days from the date the packages have been dispatched to the shipping company.